Corporate Recognition Technology Awards – Best Cash Visibility Solution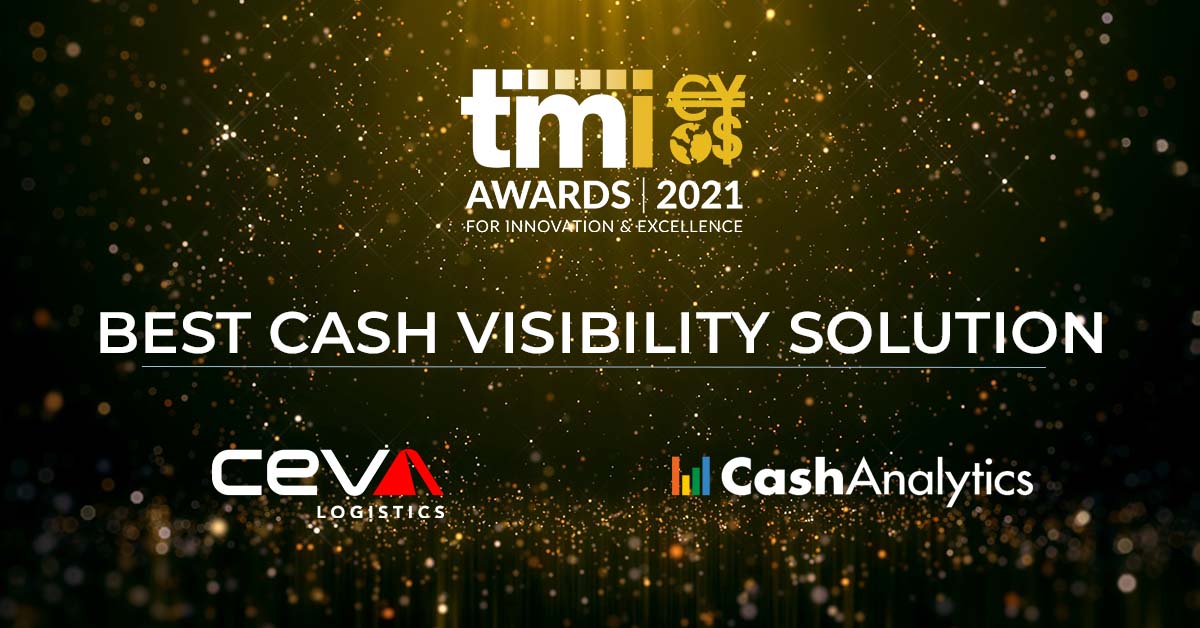 We're thrilled to receive the TMI Corporate Recognition award for Best Cash Visibility Solution alongside our Client CEVA Logistics.
In a relatively short period of time the treasury team at CEVA have implemented a cash forecasting process which now provides 100% visibility on cash balances and projected flow across more than 150 internal stakeholder entities.
This improved visibility and streamlined cash management structure ultimately allowed for the mobilisation of $100m of idle cash which was used to repay debt and provide organic funding to the business.
What makes this solution/project unique?
This project is unique in the depth of impact it had on the broader organisation in a relatively short period of time. It was a true technology enabled transformation which, based on the low investment required, had an outsized impact on the broader organisation, ultimately building a strong platform for sustainable future growth by putting cash at the centre of all decisions.
What has CEVA Logistics achieved so far?
The cash visibility transformation project delivered several tangible high value benefits to both the treasury team and wider business.
Transition from Crisis to Sustainability
Improving cash flow visibility across the business allowed the Treasury team to steer CEVA toward a sustainable path through more effective daily cash management.
Reposition role of Treasury
This project and the insight the Treasury team now has of cash flow across the group have allowed the Treasury team to play a significantly more strategic role in the management of all financial aspects of the business.
100% Cash Flow Visibility
Treasury now has 100% visibility over actual and medium-term (13-week) forecast visibility across the entire business. Specifically, this covers 40+ entities and 500 bank accounts.
$100m cash release
The project released over $100m of unused cash across the business which was used to organically fund working capital and other projects across the company. This resulted in significant interest savings while improving overall cash flow control.
Operational Savings
The implementation of the CashAnalytics platform facilitated the benefits highlighted while also generating significant time savings for the treasury team. The hours and days saved every week were reallocated to higher value activities.
We are delighted that the Treasury team at CEVA Logistics and in particular Davina Bradley has been recognised for their innovation in treasury transformation and the strategic role our platform has played in this project.
Learn more about this project from our webinar The Path to Transformational Global Cash Visibility.