Automate manual cash forecasting tasks, streamline reporting processes and carry out detailed cash flow analysis through a single comprehensive solution
Forecasting automation
CashAnalytics allows you to automate the collection of cash flow data from all sources across your organisation.
Automatically collect cash flow data from internal and external sources such as ERP systems, accounting systems and electronic statements sourced from banks (e.g. MT940 files, BAI2 files, etc.).
Additionally, human input into the model is facilitated with customisable reporting templates that are accessed via a simple and intuitive interface.
Real-time balances from across the business
Most large companies have numerous banking partners and many bank accounts, as a result, achieving the required level of visibility over individual bank balances and consolidated cash positions can be a difficult task.
CashAnalytics enables you see all of your bank account balances and transactions in one place, offering real-time visibility over cash balances and flows.
To ensure that the reporting of intercompany cash flows always net to zero, a dedicated counterparty driven intercompany tool means that transactions always match across the business.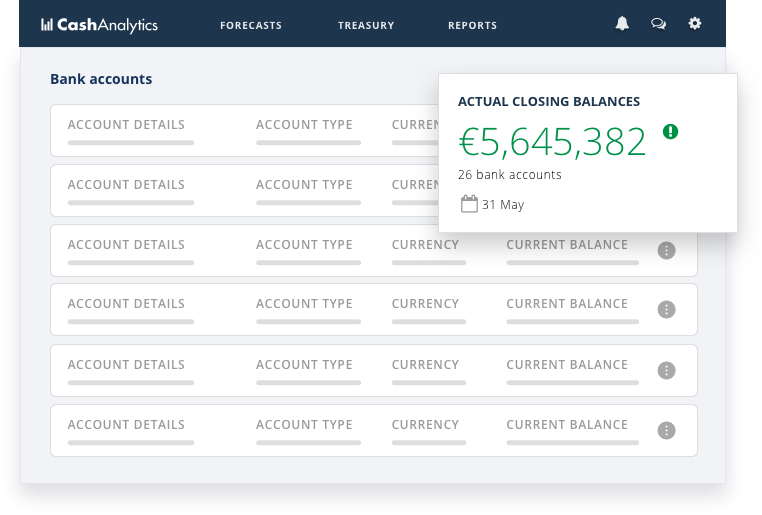 In-depth reporting & analytics
CashAnalytics provides a suite of reporting and analytics tools within the system that allow you to uncover the insights that add real value back to the business.
All cash flow and forecast data is accessible and exportable in real-time through a range of customisable reports and dashboards.
Continuously monitor and measure the accuracy of forecasts across all areas of a forecast with drill down to business unit and line item detail.
Data Modelling & Scenario Analysis
Within CashAnalytics, driver based modelling allows users to test varying scenarios and analyse the impact on cash flows.
Using the base model as a starting point, drivers (such as price changes, or payment delays for example) can be flexed to test assumptions or measure favourable or stressed conditions.
In addition, other data modelling and data visualisation tools within CashAnalytics help to highlight trends, identify anomalies, and uncover insights that couldn't be recognised by reviewing raw data.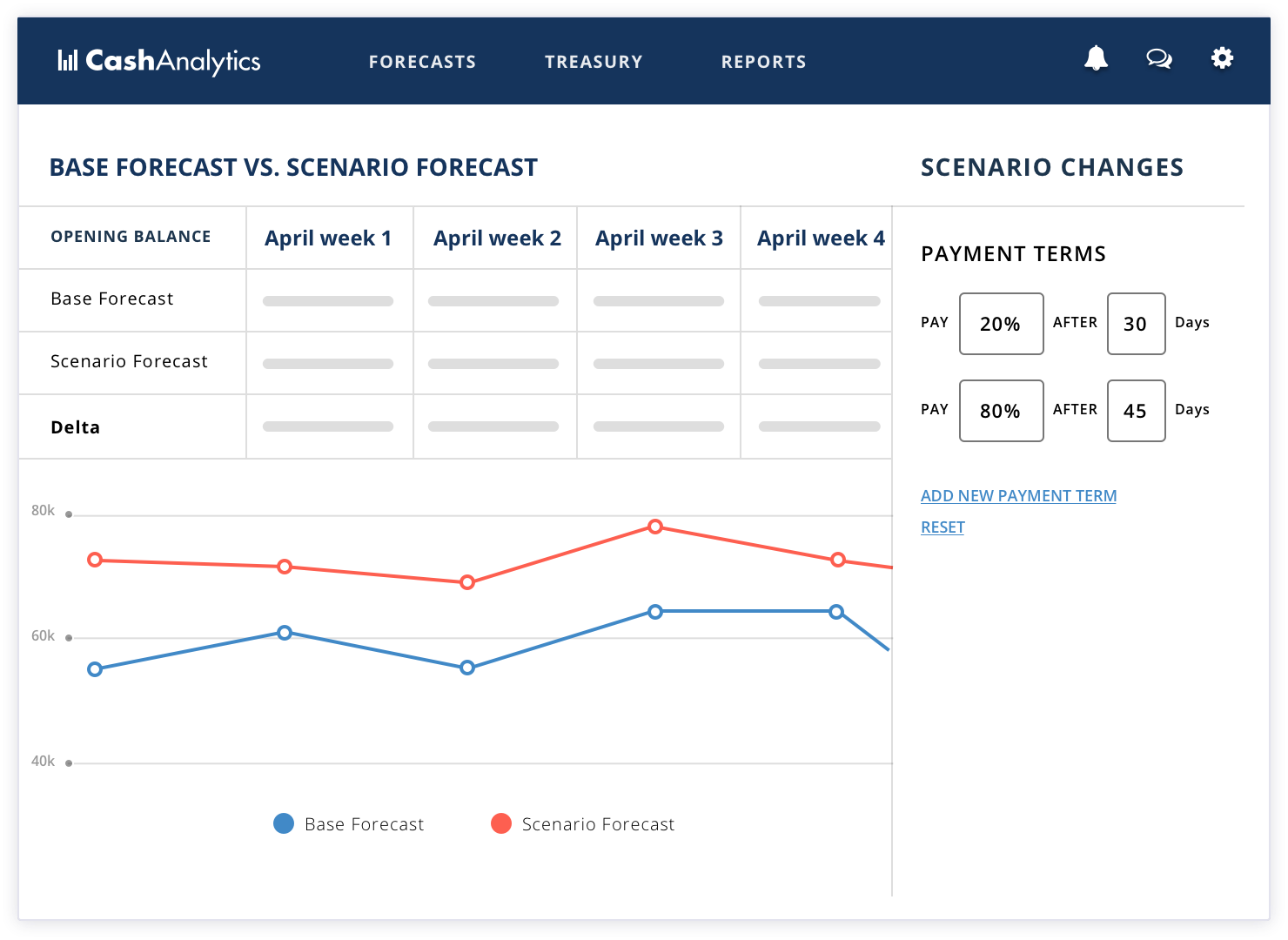 ERP Connectivity
CashAnalytics can connect directly to ERP systems (and any other data system from within a business).
This means that debtor and creditor data, balance sheet data, or any other relevant cash flow data can be pulled directly from a company's systems and loaded into the forecasting model.
Therefore, central forecast models can be automatically populated by interfacing directly with ERP systems and other cash flow data sources.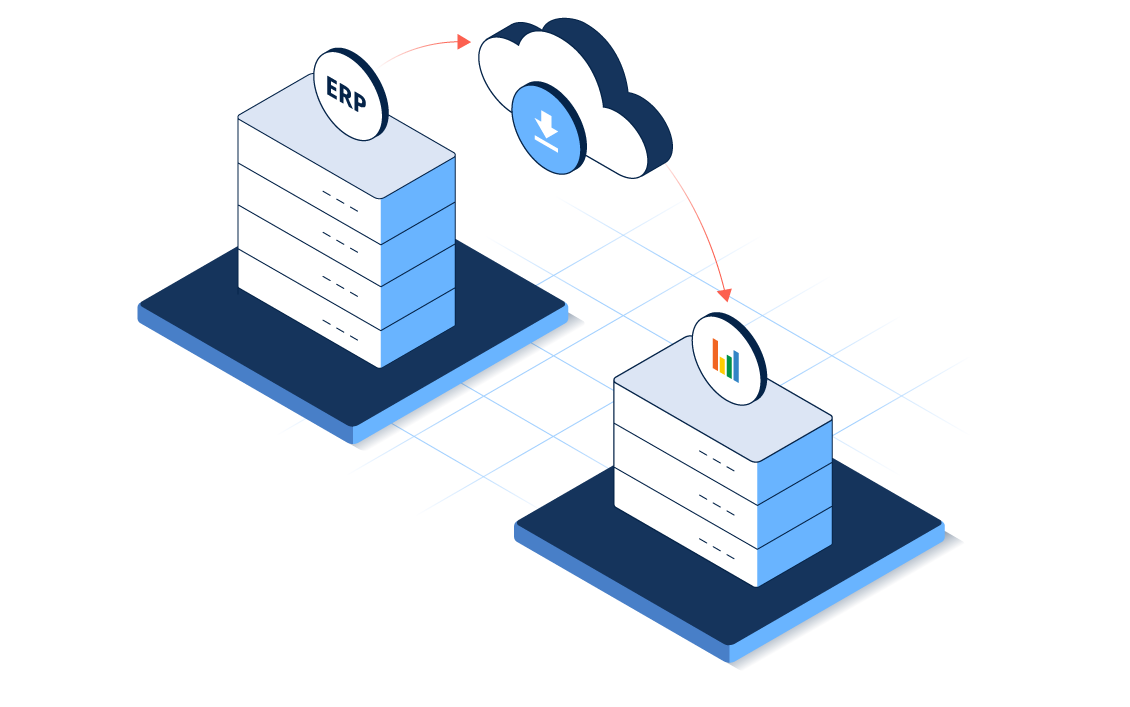 Easy to set up, use and maintain
Everything in CashAnalytics is designed with the end user in mind. As a result, all parts of the system are easy to use and minimal training is required.
To simplify forecasting across the business, all data is captured from systems and users through a single centrally designed and controlled forecasting model.
All activity can be monitored through a range of dashboards and reports facilitating clear visibility and control.