CashAnalytics Achieves 'Built for NetSuite' Status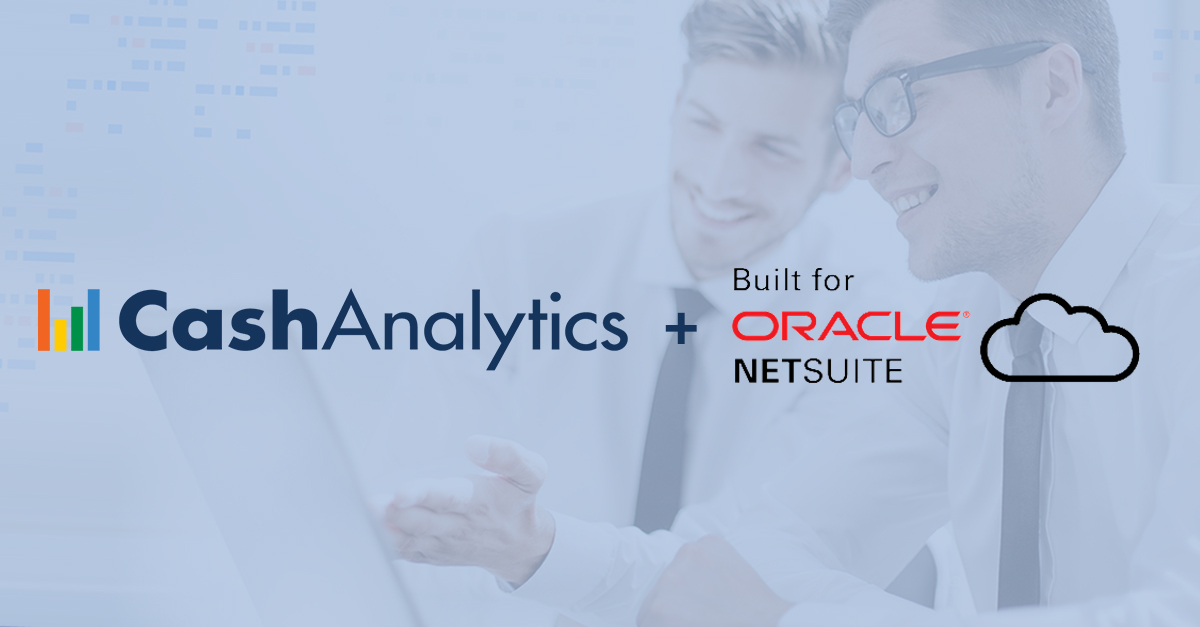 New SuiteApp for cash flow management meets Oracle NetSuite SuiteCloud Platform development standards and best practices
DUBLIN, Ireland – June 29, 2022 – CashAnalytics, a cash flow management platform for expanding businesses, today announced that its SuiteApp has achieved 'Built for NetSuite' status. The new SuiteApp, built using the Oracle NetSuite SuiteCloud Platform, enables businesses to adapt and thrive by helping them improve cash flow and stay in control of their liquidity.
"With the CashAnalytics SuiteApp, NetSuite users spend less time crunching the numbers and more time analysing cash flow," said Conor Deegan, co-founder & CEO, CashAnalytics. "CashAnalytics enables businesses to see their cash position across the business with one click or drill down at the transaction level in an instant. This increased visibility helps uncover new ways to improve business performance and helps leadership make confident decisions."
By leveraging real-time data from NetSuite, CashAnalytics helps finance teams spend less time manually compiling data and more time managing cash flow and guiding financial strategy. The cloud-based platform provides a complete view of a business's current and future cash position by simplifying and automating the process of cash forecasting and liquidity planning. By reducing administrative tasks, CashAnalytics enables finance teams to confidently plan for what's ahead with less work.
"Businesses must effectively manage cash flow to maintain daily operations and adapt to changing business conditions," said Guido Haarmans, VP, SuiteCloud Developer Network and Partner Programs, Oracle NetSuite. "This new SuiteApp extends our robust solution for cash flow management, helping NetSuite customers to further automate cash flow management and forecasting."
Built for NetSuite is a program for NetSuite SuiteCloud Developer Network (SDN) partners that provides the information, resources, and methodology required to help them verify that their applications and integrations meet NetSuite standards and best practices. The Built for NetSuite program is designed to give NetSuite customers additional confidence that SuiteApps, like CashAnalytics, have been built to meet these standards.
For information about Built for NetSuite SuiteApps, please visit www.netsuite.com/BuiltforNetSuite For more information about CashAnalytics, please visit www.suiteapp.com
About SuiteCloud
Oracle NetSuite's SuiteCloud platform is a comprehensive offering of cloud-based products, development tools, and services designed to help customers and commercial software developers take advantage of the significant economic benefits of cloud computing. Based on NetSuite, the industry's leading cloud-based financials / ERP software suite, SuiteCloud enables customers to run their core business operations in the cloud, and software developers to target new markets quickly with newly-created mission-critical applications built to extend the power of NetSuite.
The SuiteCloud Developer Network (SDN) is a comprehensive developer program for independent software vendors (ISVs) that build apps for SuiteCloud. All available and approved SuiteApps are listed on SuiteApp.com, a single-source online marketplace where NetSuite customers can find applications to meet specific business process or industry-specific needs. For more information on SuiteCloud and the SDN program, please visit https://www.netsuite.com/portal/developers/overview.shtml
About CashAnalytics
CashAnalytics is a cash flow management platform for growth-focused businesses, designed to help treasurers and finance managers improve their free cash flow and stay in control of their liquidity as their business continues to expand. By automating the administrative tasks that cause cash and liquidity forecasting to take unnecessary time and effort, CashAnalytics enables finance teams to focus on adding real value to the business. The CashAnalytics software helps them take control over their working capital and assists them to achieve clear visibility of their cash situation.
 Trademarks
Oracle, Java and MySQL are registered trademarks of Oracle Corporation.