Why All Our Clients Use Rolling Cash Flow Forecasts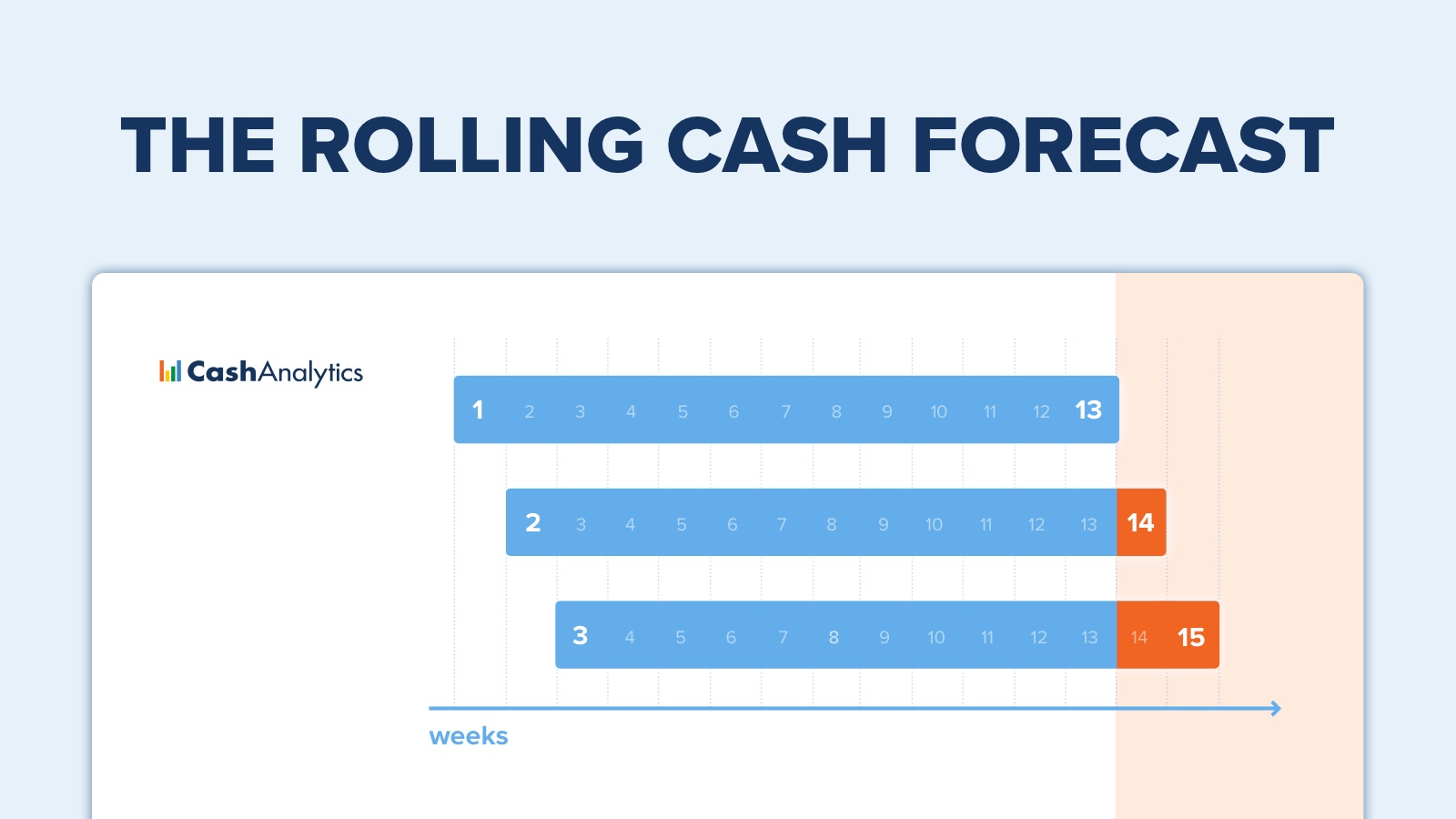 The lack of accuracy produced by fixed-term cash flow forecasts is among the biggest reasons why treasurers have often struggled to convince others within their company to wholly commit to the process of forecasting on an ongoing basis.
Fixed-term forecasting, which projects the future of a predetermined, unmoving timeline, precludes treasurers from refreshing the forecast to reflect any expected or unexpected changes to their business' cash flows before the designated period has elapsed.
Needless to say, the resulting forecasts degrade in use very quickly after creation.
The Alternative – Rolling Cash Flow Forecasts
While the majority of our clients have varying requirements in the areas of cash forecasting and liquidity planning, and therefore slightly different uses for the CashAnalytics software solution, the one thing these businesses all have in common is that they operate rolling cash flow forecasts.
Indeed, in response to the upheaval of recent months, most of the FP&A professionals surveyed by the AFP said that they also intend to implement a rolling forecast. And so, we've made the case for treasurers to persuade their CFOs to do likewise.
A Worthy Investment
In our experience, the investment and effort required to establish a rolling forecast is more than justified by the business benefits it delivers, which include:
Greater visibility
Improved accuracy
Building cash flow muscle memory
Creating a cash culture
Greater Visibility
Rolling Cash Flow Forecasts are applicable to any time horizon. But due to its broad range of applications and popularity among our customers, the rolling 13-week forecasting process is the perfect example in this instance
Refreshed on a rolling weekly-basis, the 13-week forecast always provides visibility over cash levels for the next quarter-end. Visibility to such an extent helps treasurers devise medium-term cash management plans, including debt drawdowns and repayments or short-term investments.
Furthermore, the 13-week forecast gives enough of a view for the treasury team to identify, then offset, any midterm liquidity risks. And because the 13-week timeline provides approximately four times the granularity of a monthly forecast, it greatly enhances short-term visibility. Thus, treasurers are able to sidestep the short-term planning gap as well as access data sufficiently accurate and current to empower agile decision-making.
Improved Accuracy
Unsurprisingly, the accuracy of a forecast will increase significantly if a treasurer can regularly refresh it with the latest available data – but not overnight.
Adopting a rolling cash flow forecast is committing to a process of incremental but tangible improvements equivalent to the benefits of compound interest.
The rolling forecast does allow treasurers to quickly respond to any changes to a company's cash flows and, as the next rollover period begins, the forecast will reflect those changes.
Moreover, this dynamic enables the treasury team to take the lessons learned from the previous cycle and apply them to the subsequent period.
It is vital, however, that accuracy is measured on a business unit and line item basis so problem areas can be identified and then addressed. This also facilitates the robust interrogation of the latest projections under various scenarios and assumptions.
Further Reading
Building Cash Flow Muscle Memory
The long-term success of any forecasting process, particularly in a multinational organization, will often hinge on the head office treasury team's ability to gain the wholehearted and visible buy-in of all parties involved.
To do so, it is incumbent on the lead treasurer to communicate not only the benefits to be gained from adopting a company-wide rolling forecast but also its core objectives, and how the relevant stakeholders and participants will be key to achieving these goals.
Contributors on a business unit level must be thoroughly briefed on their remit, which will include workflows and submission dates, and made fully aware of the precise structure of the forecasting template.
Through frequent and constructive dialogue and feedback, as well as the active contribution of the head office treasurers, the rolling process will become increasingly cohesive. The additional contributions required will also build a collective forecasting muscle memory around that cohesion.
Creating a Cash Culture
Vanishingly few cash flow forecasts are ever 100% accurate, nor are they expected to be, but the process needs to regularly produce a caliber of output that justifies the time, effort, and resources devoted to producing it.
Only then will the true value of this essential component of cash management begin to become apparent to the individuals whose commitment to the forecasting process is required by treasurers. This includes those in the C-suite, who will be more willing to champion an activity when it is consistently yielding actionable information that enables them to run a better business.
As detailed above, a well operated rolling cash flow forecast will meet, if not exceed, these expectations. And this is often the first step towards creating a culture that is conducive to excellent cash flow forecasting.
CashAnalytics is a cash flow forecasting software that helps multinational organizations automate their cash forecasting and bank reporting activities.