Designing a new cash flow forecasting process or re-engineering an existing process to provide more value to an organisation can seem like a daunting task, particularly for large companies operating across numerous locations and in multiple currencies. The key challenges for treasurers operating a complex forecasting process include creating efficient lines of communication with business units and handling the excessive amounts of administration usually involved with managing forecasting in spread sheets.
Ahead of embarking on the implementation of a new cash forecasting process it is critically important to clearly define what the project is trying to achieve – its goals – and to clearly understand what factors will make cash forecasting successful in your organisation. Aligned with this, recognizing the current focus of a cash forecasting process is a critical step in designing a more valuable process.
GOAL SETTING
Greenfield – What are we trying to achieve?
For companies seeking to implement a new cash forecasting process the first question that needs to be asked is "what exactly are we trying to achieve?" This sounds like a simple and quite obvious question but without identifying this at a very early stage the effort that is put into cash forecasting could be in vain. The most effective approach is to clearly define what the key reporting output and/ goals of the cash flow forecasting process will be and to implement a structure that can reliably meet these requirements. Table 1 below lists a number of common forecasting goals with suggestions on what type of process would help a company achieve these goals.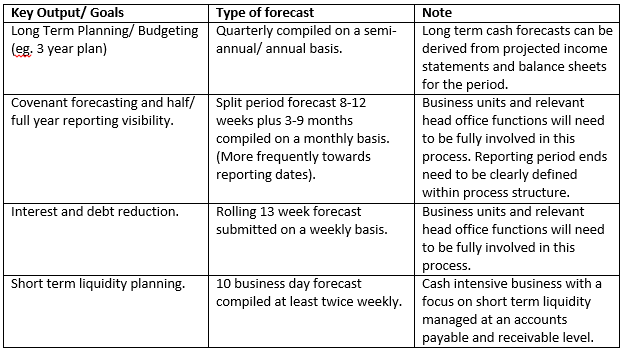 Existing process – understanding current focus
When a treasurer seeks to increase the value of their cash forecasting process they first need to understand the focus of their existing process and how much they want to change it. Broadly speaking the focus of cash forecasting is on one of three areas; administration, reporting or decision making. Table 2 below splits these focus areas into three "value levels" and outlines the headline characteristics of each.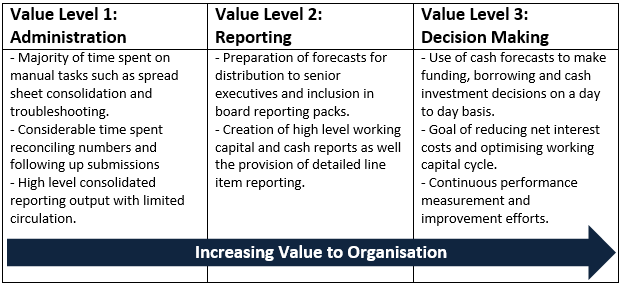 Moving the focus of cash forecasting up the value chain will require both investment and additional effort on behalf of all participant parties.

SUCCESS FACTORS
Cash Forecasting Success Loop
The success of a forecasting process is ultimately determined by the reliability and accuracy of the reporting output it generates. This success is dependent on a number of closely related factors that form what we call a "Cash Forecasting Success Loop".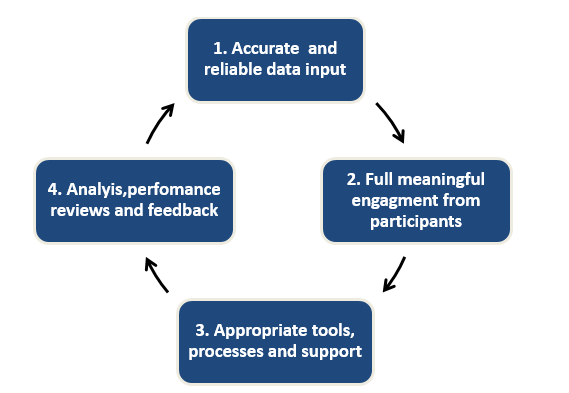 1. Accurate and reliable information input: Like most data intensive processes, cash forecasting is subject to the "rubbish in – rubbish out" principle. This means that the quality and accuracy of the information input into process will determine the quality and accuracy of the final reporting output.
Reliability is also a major factor in the performance of a cash forecasting process. For most companies gaining visibility over cash movements on a group-wide basis is a key reporting requirement. Delayed or infrequent data submissions from business units will result in missing pieces of the forecasting puzzle which will have a knock on effect on the process as a whole.
2. Full meaningful engagement from participants: Accurate and reliable information input is to a large extent dependent on the each business unit and subsidiary engaging in a meaningful way with the process. Gaining the initial buy-in required to implement a process and then ensuring that it is engaged with in a meaningful way are two of the biggest challenges faced by treasurers when managing a new forecasting structure. Ignoring the fact that cash forecasting is, for the most part, a people intensive process and not spending sufficient time with business units to ensure that they understand the importance of forecasting to the organisation will have a detrimental impact on the effectiveness of the cash forecasting process. Methods to drive process engagement include gaining visible executive level sponsorship, providing training and carrying out regular performance reviews.
3. Appropriate tools, process and support: This area relates to the structure that is put in place at an operational level to support the efficient management of the forecasting process. The tools chosen to do this will ultimately depend on the goals of the overall process as well as the resources available. For example, take a company with 15 business units operating in 7 countries. If this company wanted to compile a cash flow forecast for their 3 year plan on a semi-annual or annual basis, using spread sheets to collect, consolidate and report information would more than likely suffice due to the infrequent nature of the reporting requirement. However, if the same company wanted to put in place a structure to forecast cash on short term basis such as daily or weekly, a system based solution would more than likely be required due to the amount of administration and potential for error associated with manual consolidation of a large amount of complex spread sheets on a regular basis.
4. Appropriate tools, process and support: The true value of cash flow forecasting lies in the analysis of information generated by the process. Understanding the nature and timing of cash movements will allow a company to unlock hidden value from their cash and working capital cycles while giving full visibility over upcoming cash requirements and exposures.
One of the key elements of successful cash flow forecasting is confidence. Unless a treasurer or cash manager trusts the cash flow forecast information they receive from business units they will not have the confidence required to make decisions that will improve the efficiency of the overall cash management process. Monitoring and measuring the performance of forecasts over a period of time is crucial to building this confidence and trust. Performance measurement will show how accurate forecasts have been versus actual cash movements and at which point forecasts become reliable ("we a good a forecasting up to three months into the future but after that the accuracy becomes a little sketchy") and where improvement efforts should be focused. Feeding these findings back to business units so that they too understand the accuracy and reliability of their forecasts forms a key part of any performance improvement effort.
GOALS AND REQUIREMENTS STATEMENT
One of the key outputs of the initial stages of the cash forecasting implementation project is a simple short statement – one or two pages in length – outlining the goals and benefits of the new cash forecasting process and should include.
1. Summary of goals and business needs
2. Benefits of project to company
3. Expected impact on wider organisation
4. Proposed implementation milestones and timeframes
This statement will provide both the core of the overall cash forecasting project plan and a way to quickly communicate the goals and requirements of the process to all involved parties