'Simplicity of use is what makes us enjoy CashAnalytics'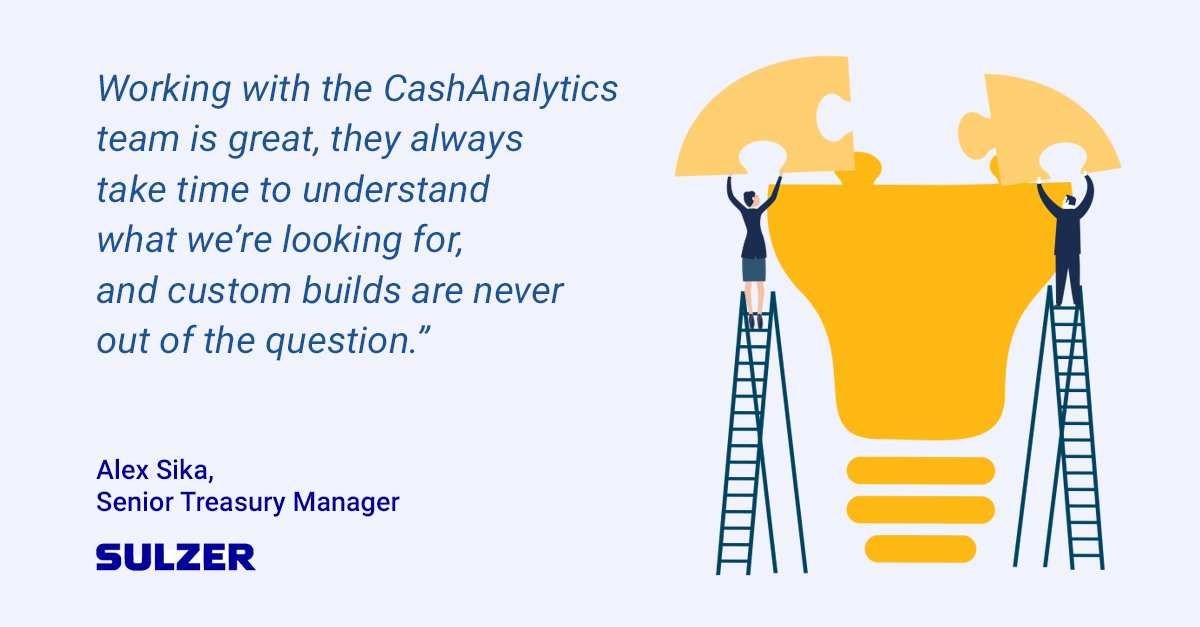 No business endures for almost two centuries without an embedded culture of constant improvement. Sulzer, the Swiss fluid engineering conglomerate, epitomizes this ethos.
Established in 1834, by Johan Jacob Sulzer, this once modest family business now controls a worldwide network of more than 180 production and service sites.
Specializing in pumping, agitation, mixing, separation, and application technologies for fluids of all types, Sulzer employs close to 16,000 people and has been publicly listed on Switzerland's stock exchange since 1997.
Sulzer is headquartered, as they have been since their founding, in the city of Winterthur.
Aligning Critical Activities with Goals 
Since the turn of the century, Sulzer has successfully enacted an ambitious strategy of expansion, which largely entailed acquisitions, regional growth, and product growth. In order to amply support cash management and funding during such sustained development, critical activities such as cash forecasting and liquidity reporting must be perfectly aligned with a company's goals.
As their business continued to expand, Sulzer recognized they required a custom centralized platform for their cash forecasting and liquidity reporting activities. And so, following an exacting selection process, they enlisted CashAnaltyics to implement a bespoke solution with the capacity to adapt and grow with their business, while supporting all worldwide locations.  
CashAnalytics worked closely with Sulzer to identify, then meet, specific headline requirements. For Alex Sika, Sulzer's Senior Treasury Manager, this collaborative approach and attention to detail was of the utmost importance during the six-week implementation stage. 
"Working with the CashAnalytics team is great, they always take time to understand what we're looking for, and custom builds are never out of the question," he said.
Simplifying the Complex 
As a global business, with over 100 legal reporting entities, it was vital for Sulzer that implementation be simple and easily managed. The interface had to be intuitive and user-friendly so disparate groups could contribute to, and engage with, the new, centrally controlled forecasting model.
"We have about 100 different legal entities actively contributing their own forecast submission sheets, each of these feed into the whole group's liquidity view. A major benefit for us is its (CashAnalytics) simplicity to use" said Alex Sika.
Given Sulzer's continued rapid growth, it was pivotal that the updated forecasting model could quickly adapt to different time horizons.
"It's easy for us to adjust forecast periods, it's easy to adjust cycles from six weeks to 12 weeks or monthly, we can adjust the line items, and so on. So, for us, the simplicity of the customization is what makes us enjoy CashAnalytics so much," Alex Sika explained.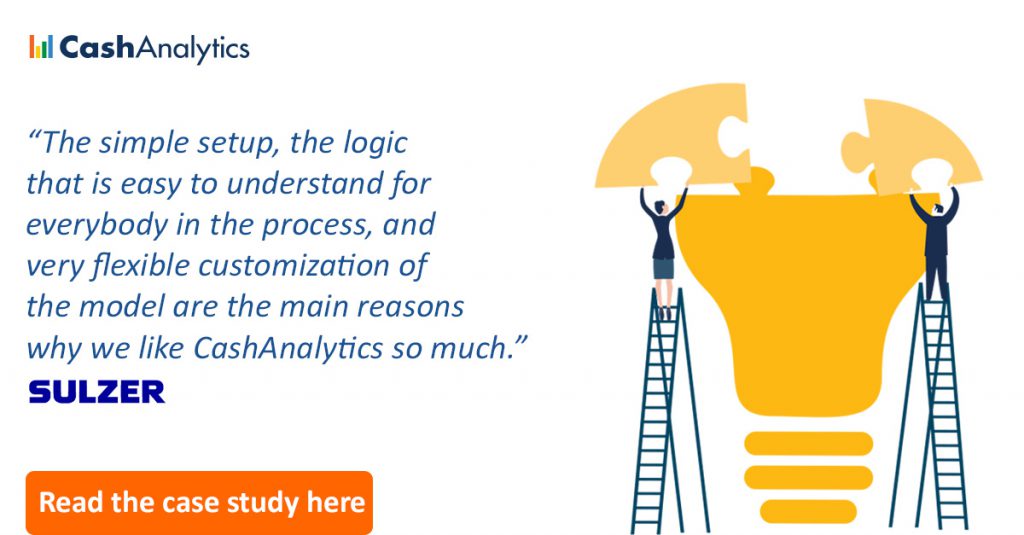 Connectivity and Liquidity
A distinguishing feature of the CashAnalytics software is its ability to integrate with existing technological infrastructures.
This not only limits the possibility for disruption to a company's daily operations during the roll-out phase but also allows CashAnalytics to quickly integrate into established product ecosystems and address specific issues. This feature, according to Alex Sika, has enabled the Sulzer treasury team to swiftly convert budgets into forecasts.
"We have lots of great tools, and we need each to work together well," he said.
"A key benefit for us is being able to quickly translate this long-term monthly budgeting data into short-term weekly forecast input. The short to medium-term forecast can then be analyzed against the longer-term liquidity planning forecasts, so we can start to see the journey of how cash will develop."
Specified Solutions
Like all CashAnalytics clients, Sulzer was assigned a designated project manager for the duration of the implementation period.
By working in such close collaboration, CashAnalytics could glean all the requisite data to guarantee that the process was mapped exactly to Sulzer's present and future needs.
Indeed, in support of Sulzer's ongoing expansion, CashAnalytics has continued to refine their cash forecasting and liquidity capabilities while meeting Sulzer's requirements at all stages of the business cycle.
For Alex Sika, access to such a dynamic and flexible solution is among the primary reasons why CashAnalytics continues to be the ideal fit for Sulzer.
"The simple setup, the logic that is easy to understand for everybody in the process, and very flexible customization of the model are the main reasons why we like CashAnalytics so much."
If you wish to know more about our software and services, contact CashAnalytics on IRE: +353 1 524 0552 or email us at sales@cashanalytics.co