How Much Cash Does Shell Have?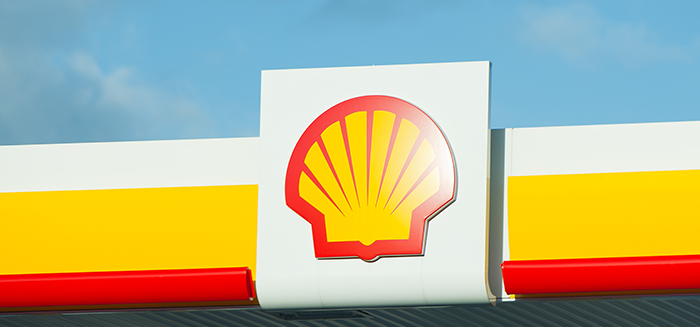 The announcement two weeks ago of Shell's $70bn takeover of BG Group is expected to start a round of consolidation in the Oil and Gas industry that has been by prompted by low oil prices over the last six months. This deal is the 14th largest acquisition of all time but transactions of this size are nothing new in an industry that has been shaped by massive mergers and acquisitions over the years. Low oil prices in the late nineties led to BP's purchase of Amoco for $50bn and the merger of the two largest majors at the time, Exxon and Mobil, in an $80bn deal. In 2000 Chevron bought Texaco for $35bn. Shell's offer represented a 50% premium on the BG share at the time of announcement and BG shareholders will receive a combination of Shell stock and cash. BG shareholders will ultimately hold 19% of the newly merged entity. Few companies worldwide have the financial firepower to pull off a transaction of this size. Below we take a glance at Shell's financial statements to better understand the financial resources it has to hand.
Current Cash Reserves and Net Debt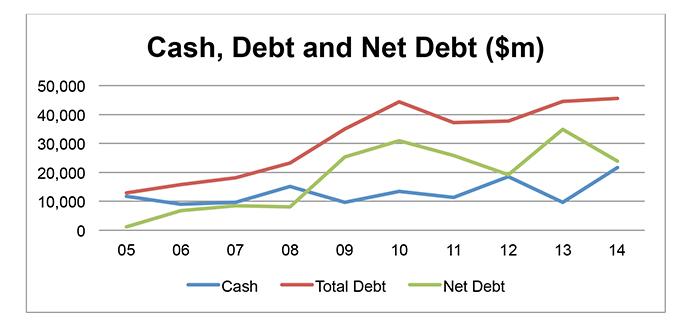 Shell reported cash and equivalents of $21.6bn in its 2014 annual statements which was over double the figure recorded in 2013. While debt levels were also slightly higher at $45.5bn the increase in cash balances has caused net debt fall to just below $24bn. The increase in cash levels in 2014 were attributed to a reduction in capital expenditure throughout the year. While these cash and debt figures may appear enormous they need to be put in context of Shell's overall operations. Shell's 2014 income statement showed $327bn of raw material "Purchases" which, on the basis of a 250 day year works out at $1.3bn a day. Ignoring other business costs, this means that Shell has around 17 days of cash on hand to cover raw materials purchases. Other Financial Resources Looking solely at cash and debt levels doesn't tell the full story of the financial resources Shell has at its disposal. The majority of Shell's long term debt has been issued using its US shelf registration. This shelf registration allows the company to issue debt securities, ordinary shares, preferred shares and warrants using a single prospectus which is updated every three years. No debt was issued under the registration in 2014 versus drawings of $7.75bn in 2013. Shell also has access to a number of other financing facilities. At the end of 2014 it had close to $40bn of undrawn facilities available. Documentation released with the announcement of the BG takeover included a "Bridge Credit Facility" which gives Shell access to a further £3bn if the takeover is approved.
2014 ($m)
2013 ($m)
Facility Name
Facility
Undrawn
Facility
Undrawn
Commercial Paper Programmes
20,000
20,000
20,000
17,000
European Medium Term Note Programme
25,000
12,117
25,000
18,023
Committed Credit Facility
7,480
7,480
7,480
7,480
Current Available Facilities
BG Group has a sizeable debt pile with net debt totalling $12bn and gearing of 29%. Relatively speaking it is more indebted than Shell which is 12% geared. The presentation given by Shell executives following the announcement prioritised debt pay downs, asset sales and a share buy-back programme if the deal goes through in early 2016. All of this points to a very busy time ahead for the Shell treasury team.