6 Ways to Simplify Frequent Cash Flow Re-Forecasting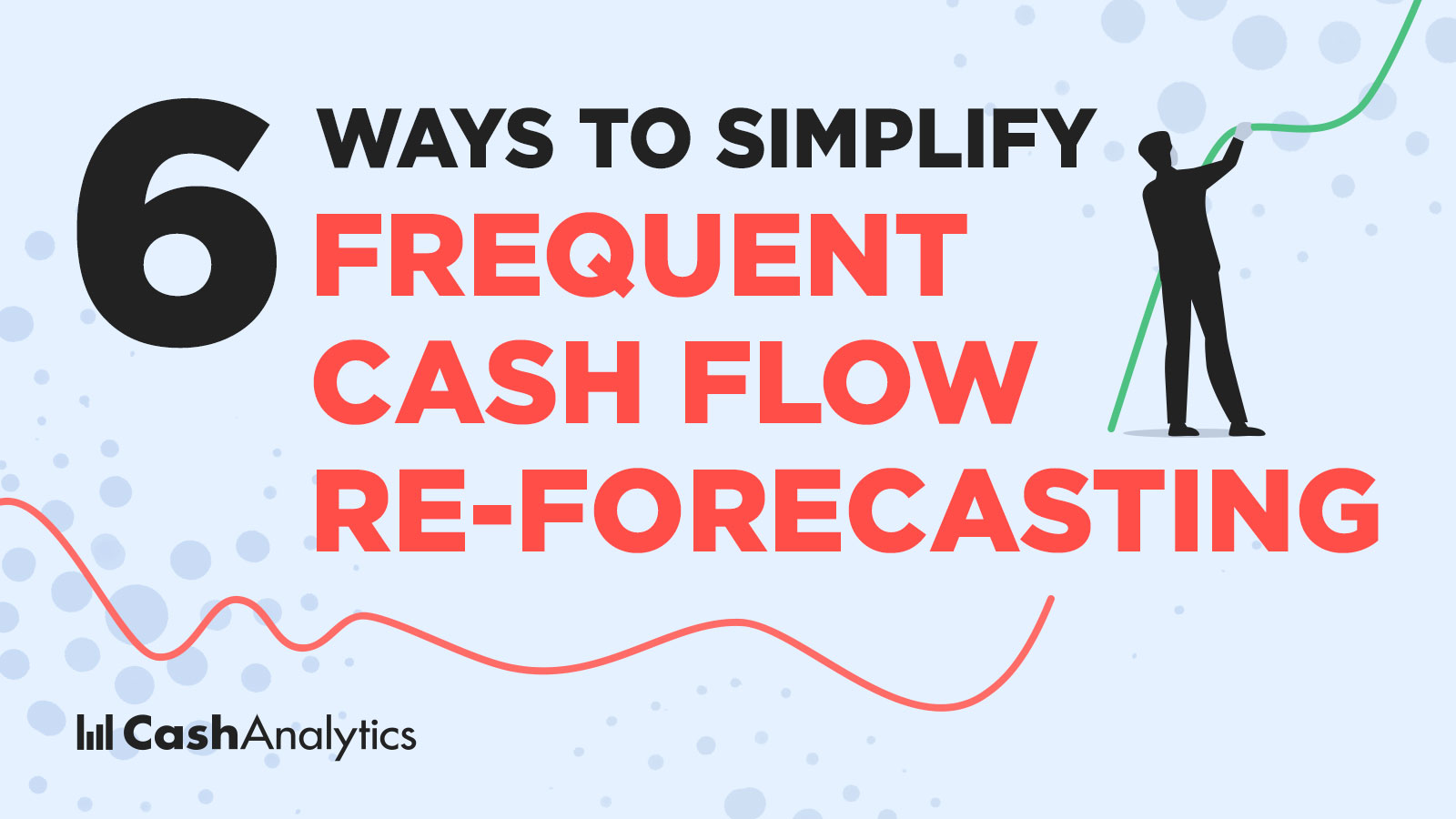 A recent Bloomberg survey revealed that cash and liquidity management is the top priority for almost three-quarters of corporate treasury executives.
The study was conducted late last year, seemingly a lifetime ago – given what's transpired in the interim – before the COVID-19 pandemic all but incapacitated the global economy.
Now, it is probably safe to assume that 100% of treasurers consider this particular function to be their primary responsibility. The times demand as much.
Though always highly beneficial, during a crisis, real-time cash and liquidity management is paramount for complex organizations, who must gather, consolidate and centralize data from vast numbers of business units and bank accounts.
The long-term is, temporarily at least, a luxury many businesses cannot indulge. And so, it is incumbent on head office treasury teams to consistently provide the clearest, most current picture of short-term cash positions and potential liquidity requirements.
Re-Forecasting Cash Flow and Liquidity
This will necessitate the frequent re-forecasting of cash flow and liquidity, an action advised by many major financial institutions, such as KPMG and Deloitte.
The Boston Consulting Group recommends that businesses, especially during this tumultuous period, refresh their forecasts every 48 hours.
By recalibrating base forecasts with the latest cash flow information and assumptions, treasurers will ensure major stakeholders are making vital decisions based on the most accurate data.
CashAnalytics has implemented robust but dynamic forecasting processes for dozens of industry-leading multinationals.
And, based on the insights we've gleaned during ongoing engagement with such widespread, intricate organizations, here are six essential steps to simplify the frequent re-forecasting of cash flow and liquidity.
1. Set Clear Guidelines and Expectations
No matter the circumstances, forecasting in large companies is a considerable undertaking and requires coordinated input from myriad people and systems.
So, it is vital that all key stakeholders know exactly why frequent forecasting is needed, the purpose it serves, and what will be expected on an ongoing basis. Cooperation is mandatory, not optional.
Congregate all dependent resources to be involved, including IT, and establish a process fluid enough to be quickly updated as the situation evolves. During previous crises, some businesses have even formed liquidity management offices to coordinate these re-forecasting activities
2. Shorten Forecast Time Period and Enhance Granularity of Forecast
Unless the established forecast period is very short term, it must be reduced to a more manageable time horizon, no more than three months into the future.
A 13-week cash flow forecast, broken down on a daily basis for at least one month, will allow for an enhanced focus on the immediate short term while providing visibility over the mid-term. The 13-week timeline has been shown time and again to strike a perfect balance between range and accuracy.
3. Reduce the Level of Reporting Detail
Increased daily visibility is hugely important, considering the focus is very much on liquidity management, but less reporting detail will be required. For example, a detailed breakdown of operating, financing and investing cash flows will not be necessary.
Conversely, a split between fixed and variable expenses and committed and at-risk customer receipts should be prioritized.
4. Focus Reporting Output on Key Indicators and Actionable Items
This process is not about creating reams of analysis. Instead, perform detailed but focused analyses of key cash flow drivers. Pinpoint reporting outputs on critical indicators (such as total available liquidity) and actionable analysis, like cash flow expenses that can be reduced or important customers at risk of non-payment
Examples of what to focus on include:
Current available liquidity
Forecast 13-week liquidity
7, 30, 60, 90-day operating cash flow burn
Days of operating cash flow burn on hand
At-risk customer receipts
Aged & stressed debtor and creditor information
5. Further Apply 80:20 Rule, to Everything
No facet of a business should be overlooked amid such a fraught period. However, it would be prudent to now dedicate reporting and analysis to the most significant and/or vulnerable parts of the company, such as business units or clients.
6. Stress Test Regularly
Immediately introduce daily cash flow stress testing under various assumptions and, with a constant eye on worst-case scenarios, factor in newly available macro information as frequently as possible.
Unfortunately, most companies do not have a 'Pandemic Scenario' in their business planning. As such, the fallout from the outbreak of COVID-19 has created a new, previously unimagined worst-case scenario for the majority of businesses.
In this environment, however, it is vital to probe the depths of these worst scenarios, so adequate plans can be made for what might yet occur from a liquidity perspective.
Once connected to the CashAnalytics cloud-based platform, large and complex businesses can quickly access all the invaluable data required to consistently deliver excellent cash and liquidity management.