ACT Annual Conference 2021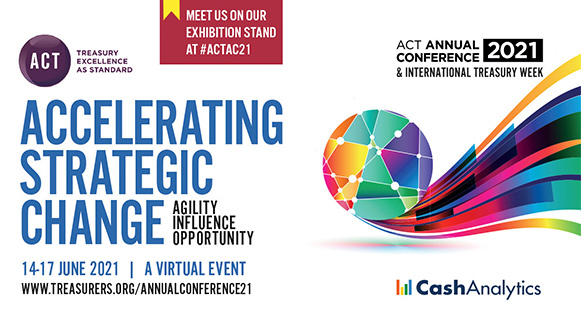 We are excited to be a part of the Association of Corporate Treasurers (ACT) Annual Conference & International Treasury Week on 14 – 17 June 2021. This year's conference has been given a fresh new format, essential timely content, and accessible from anywhere in the world.
The conference is spread over four days and the event will dive into discussion topics around this year's theme, 'Accelerating strategic change: agility, influence, and opportunity.'
Sessions around the future role of the treasurer, ESG, risk management, and digitalisation, will be just some of the topical content presented by treasury experts.
This year's keynote speakers include Andrew Bailey, Prof. Kevin Fong OBE, and Rentokil's CEO, Andy Ransom.
You can participate in live Q&As or watch on-demand at a time which best suits you.
Click here to view the full agenda.
Join us and hundreds of corporate treasury professionals and as the virtual ACT Annual Conference & International Treasury Week 2021 takes shape, please keep an eye out for updates here.
Click here to register.