5 Interesting Facts about Google's Treasury Operations

In the first of a series of articles looking at how business trends impact the treasury operations of large companies we examine Google and highlight 5 interesting facts that have shaped the growth of their corporate treasury function over the last 10 years.
Google marked the 10 year anniversary of its stock market debut in August of last year. Since IPO Google has achieved almost unmatched business and commercial success and it now ranks amongst the largest and most respected companies in the world. Investors in the IPO haven't fared badly either – one dollar invested then is now worth around 12 dollars. At the time, however, the IPO was considered a failure on a number of fronts as Google sold a lower number of shares than originally expected at a price towards the bottom of its guided range. The Dutch auction mechanism used for allotting shares to investors caused a great deal of confusion and has been rarely used since.
It wasn't all Google's fault; market conditions in 2004 weren't exactly ideal (dot com scar tissue) and Google had an unproven business model. Looking back over the 10 years since August 2004 the IPO could be considered a low point from a financing and treasury perspective in what has since been a spectacular performance. This article looks at Google's growth and commercial success through a "treasury lens" to better understand some of the key metrics behind what has grown to be one the largest corporate treasury and investment operations in the world.
To put the Google numbers in context we use comparative figures for two other ICT heavyweights, IBM and Microsoft. IBM IPO'd over 100 years ago and Microsoft went public in the mid-eighties.
Fact 1: Google's Asset Base has grown by 1,200% to $130bn in 10 years
Google's asset base has grown by close to 1,200% over the last 10 years and by 3,800% since IPO. In contrast IBM's assets have increased by 11% and Microsoft's by 140% over the same period. Some assets require more active management than others. For example goodwill and intangibles are passive from a treasury perspective but cash, on the other hand, requires management on a day to day basis.
Fact 2: Google currently has a $60bn Cash Pile

Every organisation manages cash flow and in some cases surplus cash. Few manage a cash mountain. Google's latest 10-K showed cash plus cash equivalents totalling close to $60bn which has grown by close to 3,000% since IPO. While Microsoft hasn't experienced the same growth in cash reserves as Google it remains massively cash rich – ranking second only to Apple in the corporate cash reserve league table.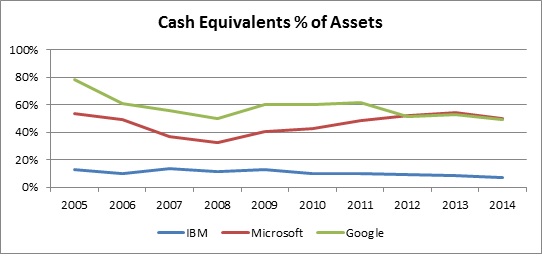 Cash comprises approximately 50% of Google's asset base. This is roughly equivalent to Microsoft's cash to assets ratio but about five times larger than that of IBM. While both Google and Microsoft operate in different fields (advertising and business software) the one thing they share in common is their remarkable ability to consistently turn revenue and profits into cash. This has led to a situation in both companies where the underlying business has generated more cash than it can re-invest in business activities.
Fact 3: Google Traded over $100bn of Securities Last Year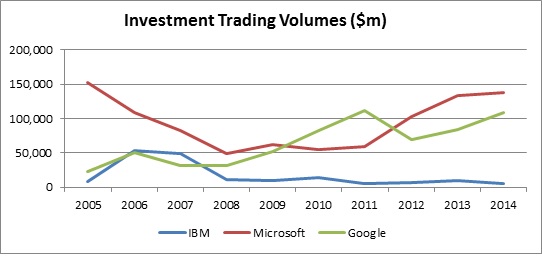 We've defined trading volumes as the sum of the investment purchases and sales shown on each company's cash flow statement. While it may not give an entirely true picture of the work involved in managing investments it does give a good sense of the scale of investment activity undertaken by each company. Most large organisations now operate "bank" like structures involving front, middle and back office activities as well as compliance and risk. Google buys and sells almost one hundred billion dollars' worth of securities on an annual basis – more than their revenue from business activities.
Fact 4: Google Invests Heavily in Property, Plant and Equipment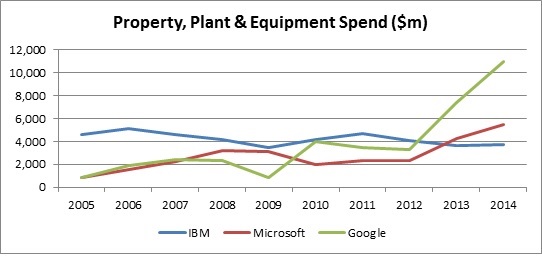 Google's spending on Property, Plant and Equipment (PPE) has increased dramatically in recent years with the treasury team directing over ten billion dollars towards such investments in 2014. Google has ramped up investment in data centres and other cloud related fixed assets as it competes aggressively with the likes of Microsoft, Amazon and Salesforce to gain the upper hand in what is still a fledgling market. This trend is set to continue into the future. Google's Q4 2014 earnings release stated that "we expect to continue to make significant capital expenditures."
Fact 5: Despite being Cash Rich Google Still has some Debt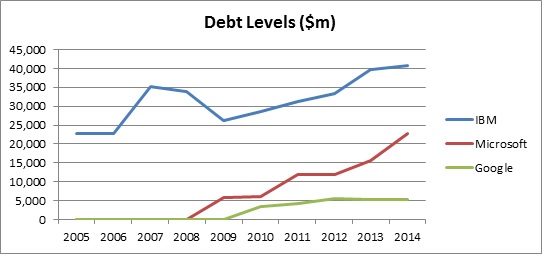 It may seem unusual for a company with such vast cash reserves to have any debt on its balance sheet but the international nature of Google's business has meant that a large portion of this cash is actually held overseas, out of reach of the head office treasury team due to the tax implications of bringing it home. At the moment, total debt levels are very low at approximately 5% of equity.
This high level glance at Google's financial statements gives a telling insight into the scale of the company's treasury operations. It now ranks on a par with mid-scale financial institutions from a treasury activity point of view.  Perhaps the most impressive aspect of the Google treasury story has been the speed of growth since IPO and the positive challenges this has presented. Google is truly a world class organisation, no doubt supported by a world class treasury team.